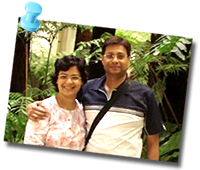 Dr. Gautam Sharma and Dr.Shveta Sharma The husband and wife team running this clinic have been in practice since 1992. Radiant Smile came into existence in 1999. It is a multidisciplinary dental clinic with state of the art equipments, where emphasis is placed on Sterility, Hygiene and Clinical excellence.
Dr.Gautam Sharma is a General Dentist with special training in Implantology. He is a Nobel Fellow and Fellow International College of Dentists.
Dr.Shveta Sharma is a General Dentist with special interest in Aesthetic and Cosmetic Dentistry.
We are state of the art fully equipped dental clinic and are catering to all routine dental procedures. We also are equipped for all specialized procedures in dental implants.