Orthodontics is about wearing braces for a limited time to improve your smile for the rest of your life. Your confidence and the health of your mouth are also likely to be positively affected. We can correct problems like crooked or overlapping teeth, spaces between the teeth or teeth that stick out.
Most adults seek orthodontic treatment for cosmetic reasons; however, many may seek
treatment because of jaw dysfunction, excessive wear of individual teeth or problems with dental hygiene.
Whatever your reasons, we at the Radiant Smile Dental Clinic will concentrate on straightening your teeth and achieving harmony of your teeth, jaws and face. And if you want invisible braces, you have definitely come to the right place.
Invisalign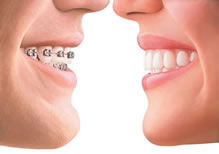 Invisalign® uses a series of nearly invisible, removable aligners that you change every two weeks for the next set of aligners. Each aligner is individually manufactured for your teeth, and your teeth only. As you replace each aligner, your teeth will move – little by little, week by week – until they have straightened to the final position prescribed by your orthodontist.
The Invisalign® treatment can slot easily into your daily routine, without any fuss or embarrassment. There are no metal wires or brackets, so no need to worry about mouth irritations, as the aligners are comfortable to wear and can be removed for eating, drinking, brushing and flossing as normal.
Lingual Braces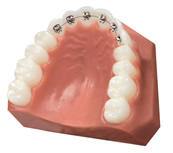 Lingual braces are the modern and invisible alternative to conventional braces. These are fitted behind the teeth so no one can see you are wearing braces!
We us high tech STB and Incognito™ appliances. These are virtually invisible, easy to clean and the only one who knows you are having orthodontic treatment is you. Modern lingual appliances have a remarkable flat design, which provide maximum patient comfort. These custom-made braces are a perfect fit and so produce the best possible results.
Fixed Braces
Fixed braces are capable of very precise tooth movements and we use state of the art DamonQ braces. Traditional braces use elastics to hold wires in place which creates friction and slows tooth movement. New age Damon braces use a friction free slide mechanism, allowing teeth to move more freely and comfortably that ever before.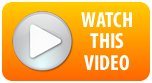 Cosmetic Braces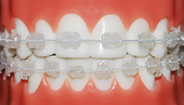 Ceramic (tooth coloured) brackets are used instead of the metal ones. We use Damon Clear, which are part of the innovative Damon System, combining tieless brackets and high technology archwires that are clinically proven to move teeth fast and comfortably with spectacular smile and facial results.
These braces do not stain like traditional ceramic braces because they use a self-ligating slide mechanism to hold the wire in place, instead of latex elastics.
Removable Braces
Removable braces are occasionally used for simple tooth movements. These have a plastic palate with delicate wires that gently guide the teeth into position. They are usually worn full time, including at mealtimes although they can be removed for cleaning both the teeth and the brace.